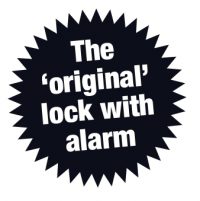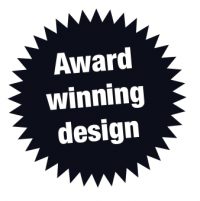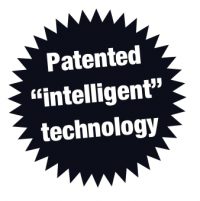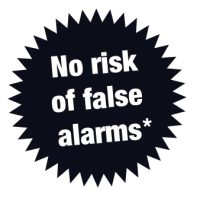 *if used in accordance with the manufacturer's instructions
In recent years security has become a very high profile issue. Theft is generally on the increase worldwide and demand for effective affordable security is extremely strong. The Lock Alarm products have been designed with this in mind and provide an intelligent security solution for a wide range of common applications.
The problem with ordinary locks is they just silently wait for thieves to come along. A Lock Alarm is different as it has an ear piercing alarm. Attempting to cut through the lock starts the alarm screaming, attracting attention and scaring away the potential thief. According to Police and other law enforcement agencies noise is the best deterrent against crime.
Using award winning patented technology the Lock Alarm products are the ONLY locks available which truly function by sounding the alarm when the cable/shackle is being cut. 'ÄúIntelligent'ÄĚ electronics ensure the alarm will only sound when an attempt is made to attack the device and therefore cause no false alarms.
The Lock Alarm product line provides effective and affordable security for a wide range of common applications at home, outdoors or when travelling. They come with a 1 year manufacturer's warranty and meet all European and worldwide product safety standards.
As a measure of their tremendous success Lock Alarms have been promoted by some Police forces around the world as an effective deterrent against opportunistic theft (which accounts for over 98% of all thefts in most countries). In addition the Lock Alarm products have received many positive product reviews and testimonials from media and consumers.

PRESS COVERAGE
Just some of the well renowned publications which have featured Lock Alarm: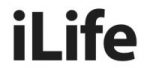 PRODUCT REVIEWS
'ÄúThe Lock Alarm is a useful extra security device for on-board valuables 'Äď tenders and outboards spring to mind. Just wrap the cable around what you want to protect and lock into the unit. If anyone tampers with the unit or cuts the steel cable, it emits a 120db scream 'Äď powerful enough to attract even the doziest of marina staff . . .'ÄĚ
Motor Boat & Yachting Magazine
'ÄúHeavy-duty steel cable on this lock, combined with a flashing light and 120 decibel alarm that screams if someone tries to tamper with it, makes this a formidable foe of would-be thieves. . . secures just about any large object, from bicycles and motorbikes to boats, skidoos, camping and RV equipment. The steel cable will ruin just about any tool used to try and cut it and the siren will send any thief running.'ÄĚ
The Toronto Star
'ÄúThe Lock Alarm is a versatile security device, ideal for temporary use while on (camp/RV) site or for more permanent locations like securing items in garages or garden sheds. . . (when tested) the shrieking alarm left our ears ringing for ages afterwards. A good value deterrent to opportunist theft.'ÄĚ
The Caravan Club Magazine
'ÄúTheft of power tools, machinery and other valuable equipment is an increasingly common issue . . . and it is because of this that there has been a sharp rise in the demand for affordable security devices such as the Lock Alarm. The Lock Alarm is an innovative portable anti-theft device which is suitable for securing any large items from theft when left unattended outside or stored inside a building or vehicle . . .'ÄĚ
HQ Magazine
'ÄúA 'Äėmust-have'Äô product for your 'Äėmust-have'Äô devices ! From the manufacturer of the MacBook cable lock alarm we have the Hand-iSafe. It'Äôs a portable storage solution for securing your iPad (models 1, 2 & 3 plus Mini) and any other iproducts when you are not using them. It'Äôs very quick and simple to use, just pop your iPad into the storage compartment and use the ultra strong steel cable to secure it to an immovable object such as a bed frame, desk or car seat. What is more, an ear shattering 110 decibel alarm is incorporated into the unit which will sound if the anchorage cable is cut. So if you want to hang onto those 'Äúmust-have'ÄĚ products of yours the Hand-iSafe is a definite must too.'ÄĚ
iLife Magazine
'ÄúPadlock as we may, double lock as we might the determined thief will find their way to our property and lighten us of it. And we cannot kick them up the rear should we disturb them in their criminal activity 'Äď else we might fall foul of the law! There is now a product on the market which, in my opinion, seems as near to theft-proof as is possible. Called the Lock Alarm it is immensely strong and secures items such as lawnmowers, garden furniture, chainsaws and ladders. . .'ÄĚ
EDP Magazine
"Here's a brand new product ideal for keeping secure items such as bicycles, boats, motorbikes, power tools and camping and caravan (RV) equipment in all weathers and environments. Lock Alarm has an ear piercing siren to deter anyone tampering with it and the siren just keeps going until disarmed! . . . 24 hour protection for valuables left unattended outside your home or place of work or when stored in a building . . .'ÄĚ
Motoring & Leisure Magazine
'ÄúLock up your bike, skis, snowboard or just about anything with this exceptional lock that not only secures your possessions with an ultra hard steel cable but comes with a 120 decibel alarm should the cable be cut. The cable is specially constructed to help resist against cutting and sawing and comes in various lengths such as 8ft, 15ft and 30ft.'ÄĚ
U-Magazine
'ÄúThefts from sheds and garages are becoming more common, so for some extra security, why not try the Lock Alarm? . . .'ÄĚ
BBC Gardener's World Magazine
'ÄúDon'Äôt lose your cool, or your gear this summer . . . if your bike, knapsack or other valuable needs double-duty protection while at the campsite or beach, there'Äôs a new product available to consider. . . the Lock Alarm'ÄĚ
The Globe and Mail
'ÄúPerhaps more than ever before, securing your bicycle, scooter or motorcycle from theft is essential when you venture out this Summer! You may wish to consider a new type of security device called 'ÄėLock Alarm'Äô. These clever locks have an extremely loud alarm built into them such that if a thief attempts to cut the lock the alarm will sound. Various different models are available, with the 'ÄėLock Alarm Maxi'Äô and 'ÄėHeavy Duty Lock Alarm'Äô being the most suitable for cyclists and bikers.'ÄĚ
Sunday Telegraph Magazine
'ÄúNo matter how busy we maybe it is important to always remember to secure your notebook computer from that opportunist thief! To help us to do this is a handy little device made by Lock Alarm. The Lock Alarm 'ÄėMini'Äô is a pocket sized lock featuring a retractable steel cable and a loud 100 decibel alarm. It attaches to your notebook via a small metal adapter which locates into the security slot in the side of your notebook (as per photo above). The alarm comes into play if someone tries to snatch your computer.'ÄĚ
Notebook World
'ÄúHere'Äôs a great new product that'Äôs just entered the market, a solution for securing your iPad or Tablet PC when you are not using it. Place your iPad/Tablet into the 'ÄėHandiSafe'Äô and use the 60cm (24'ÄĚ) steel cable to secure it to some fixed immovable object. If someone tries to cut the cable or force open the safe then an ear piercing 110 decibel siren starts to sound. Great for use when staying at hotels or for students in college dorms or even in the car!'ÄĚ
MacWorld Magazine
"Finding somewhere secure to leave valuables such as cameras or mobile phones in an open boat can be a problem. The first rule to obey is, of course, 'Äėout of sight, out of mind'Äô, so don'Äôt leave them lying around in full view. But few stowage locations on small boats are really secure, and your insurance company may refuse to cough up if it finds out you left your Nikon in an unlocked compartment on an unattended boat.. . . The PortaSafe is a portable, fully alarmed personal safe. At 2.7kg (6lb) its light enough to lug around so it can be transferred from home to car to boat without too much effort. Its hardened steel chassis is protected by a tough plastic outer casing so the occasional knock won'Äôt damage your shiny GRP. You lock it to the boat by an integral safety cable that resists cutting and sawing. Not only that, but it has an in-built 120db siren that will go off in the event of attempted forced entry. Still best to keep it out of sight if you can though, even if that means simply wrapping a towel round it. Another handy boating accessory is the Lock Alarm. The picture tells the story on this one. . . Its uses are limited only by your imagination but the really obvious boaty one is to make your boat and outboard truly inseparable. What makes it doubly useful is the mounting bracket that can be fixed to a wall or post at home, securely locking multiple items not only to themselves but to terra firma. When the lock is in the mounting, the screws can'Äôt be got at, and any attempt to remove it by force results in the alarm sounding. Excellent.!'ÄĚ
SportsBoat Magazine
AWARDS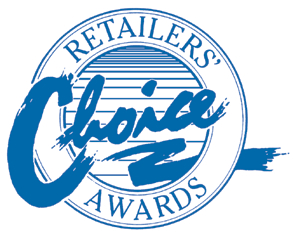 Do-It-Yourself Retailing Magazine 'ÄúRetailers'Äô Choice Award Winner'ÄĚ


'ÄúBest New Hardware Product'ÄĚ Silver Award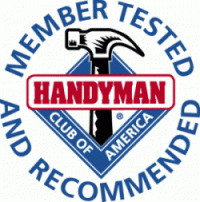 Handyman Club Of America 'ÄúMember Tried & Tested Award Winner'ÄĚ
TESTIMONIALS
Just a small selection of unsolicited testimonials and comments made by Police and consumers:
'ÄúOne of the most effective security systems available . . . it is an excellent device'ÄĚ
Crime Reduction Officer PC Dave Richardson of Grantham Police
'ÄúI have shown your products to the force crime prevention co-ordinator and we both agree that they look very good . . . I intend showing your products . . .'ÄĚ
Chief Inspector Mike Dulson, Head of Crime Prevention, Hampshire Police
"We've been promoting some of your Lock Alarms throughout the Roadshows we have been conducting this year. The public'Äôs response has been very encouraging, and in particular we feel it has been a great help in the (Police) forces efforts to promote two-wheel and garage/garden shed security.'ÄĚ
Crime Prevention Officer PC Lynn Stockdale
'ÄúI have been very impressed with the HandiSafe and Lock Alarm. We will soon be ordering an initial batch to be used in our patrol cars. With your permission we also plan to promote these devices to several corporates in this area who have recently experienced a spate of thefts from their sales reps'Äô vehicles . . .'ÄĚ
Sergeant Mike Cleaver, Cleveland Police
'ÄúI have proof my Lock Alarm really works against thieves!. My motorcycle was in an attempted theft, but the thugs failed thanks to your product . . . the alarm was sounded and they ran!'ÄĚ
Mr B.W. Adams
'ÄúI thought you would be interested to hear my story about how the Lock Alarm saved my gear from being stolen. I'Äôve been using it to secure my personal watercraft (jetski) when I'Äôm down at the lake at weekends and holidays, and on my trailer when I'Äôm taking it there and back from my home. Back at home I store the PW on the trailer in my garage and use the Lock Alarm to lock them both up to a ground anchor I put in the floor. Recently someone broke into my garage and stole some tools. They would almost certainly have also taken the PW and trailer if it had not been for the Lock Alarm. When I came home the alarm was still ringing and I found the ******** had tried to cut through the cable but they must have run off when the alarm started and just taken my tools. I guess I should have had a Lock Alarm for those aswell but I'Äôm just pleased the watercraft and trailer did not go as I know the insurance company would probably not pay full replacement value. Thanks for saving me that experience!!'ÄĚ
Gary Massura
'ÄúThought I'Äôd let you know that since we purchased your system for all 48 of our trucks two thefts have been averted'ÄĚ
Allen Chariton, Tierra Verde Landscape Inc.
'ÄúA product I have been looking for a long time. What a great Idea!'ÄĚ
Pat Campbell, Wavedancer Kayak Expeditions
'ÄúAs a sales manager who coordinates a team of 37 sales reps I'Äôm confirming the enormous benefit the PortaSafe has given to myself and our company. Previously we had experienced some considerable headaches with reps having their laptop computers and video projection equipment stolen from their hotel room and back of their vehicles. After trialing a PortaSafe we bought one each for all our sales reps and they are now under instruction to store their laptop, projector and other hardware in the PortaSafe and secure in the boot (trunk) of their vehicle when they are between meetings and in the hotel room when they stop over. All the reps have commented how easy to use the safe is and actually provides a neat way of carrying their equipment from car to meeting venue and back again.'ÄĚ
Robin Paxton, On-Air Technologies
'ÄúI travel the world as an independent photographer and use one of your Portasafes to secure my cameras and lenses wherever I go. It is particularly useful on location at a shoot when I can secure it to a tree or some other fixed point and then don'Äôt have to worry about someone taking my stuff. It is also great at the airport and in hotel lobbys when you are waiting around, I'Äôll simply lock the safe up to a chair or rail and if I get sidetracked by a call on my cell phone or chatting to a colleague I know it will still be there when I turn back around. Really useful!'ÄĚ
Arlon
"I'Äôm a high school teacher teaching design and technology. I'Äôve had a Cable Lock Alarm for a few months now and more recently purchased a HandiSafe. Congratulations on 2 excellently designed and innovative products.'Äú
Mr Tony Slaney
'Äú. . . we'Äôve been really impressed with the ComputaLock Alarms we bought . They were easy to install and don'Äôt require us to remember to switch on and off like some other devices do. They also look strong enough to dissuade potential thieves, yet are not ugly looking like some other systems. . .'ÄĚ
The Garrity Partnership
'ÄúI'Äôm writing to tell you what a wonderful item you make. We first bought a Lock Alarm about 10 months ago for a biking holiday . . . We secured our bikes with it in city streets, at campsites and outside hostels and whilst fortunately there was no sign of someone trying to steal our bikes we are sure it acted as a sufficient deterrent because some other bikes were stolen at the time at some of these locations. Since our return we have bought 2 more, one for our daughter to secure her bike at college, and another for our garden shed to secure our lawnmower, hedge trimmers etc. as there has been a spate of thefts from garages and sheds in our area. Please let us know if you come up with any more great ideas.'ÄĚ
Mrs Angela Briscombe
'ÄúMy wife and I decided to tour Europe for three weeks this Summer in a motorcaravan (RV). We were recommended by some close friends to your products and consequently bought a HandiSafe and Lock Alarm from a local dealer just before we went away this year. We are so pleased we did as we found ourselves needing to use them almost each and every day. The HandiSafe gave us such peace of mind securing our passports, credit cards, money etc. etc. when we left the motorcaravan parked in towns/cities and also at night when we were asleep. The Lock Alarm was just so useful for protecting almost everything else . . .'ÄĚ
Bob & Marie Whiting