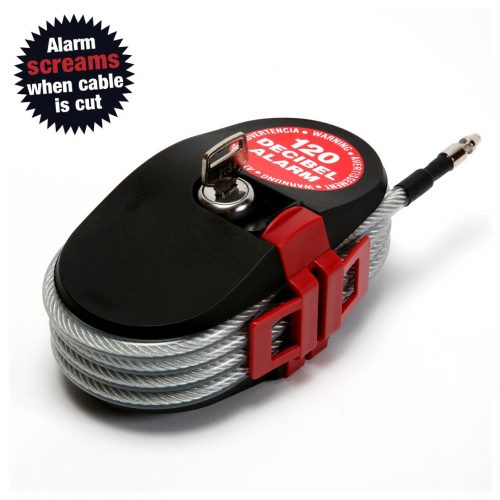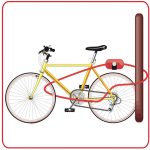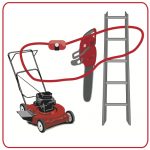 • Flashing LED deterrent
• 1.35m (4ft) long cable – 8mm (1/3″) diameter
• Award winning patented technology to detect when the cable is being cut or the lock is forced
• Cable is plastic coated to avoid scratching your valuables
• Cable stores neatly around lock unit when not in use
• 120 Decibel Siren
• Suitable for indoor and outdoor use
• Brackets enable main lock unit to be attached to a wall, post, side of vehicle, or directly to bicycles or machinery
• Requires 1 x 9 volt battery – fits inside a tamper proof compartment
• Dimensions: 14cm x 7.5cm x 5cm (5.5″ x 3″ x 2″)
• Weight: 420g (15oz)
Item# 6795XT
The Lock Alarm XT is similar to the Cable Lock Alarm (Item # 6796) but has double the thickness of cable to provide an even higher level of security for your valuable possessions. Incorporated into the device is an ear piercing siren that will scare away potential thieves. When an attempt is made to cut through the ultra hard steel cable or attack the main lock unit the alarm starts screaming!
Compact and simple to use, the Lock Alarm XT can provide protection for valuables left unattended outside or stored in a shed, garage or outbuilding. It is also ideal for when you are on the move for securing equipment whilst in transit in vehicles, in the back of trucks or on trailers.
The 1.35m (4ft) long steel cable is long enough to secure several items and is plastic coated to avoid scratches to your valuable equipment. When not in use the cable can be wound neatly around the main unit and clamped tight.
The Lock Alarm XT operates using a 9 Volt Alkaline battery which fits inside a tamper proof internal compartment. Suitable for use in all weathers and environments the Lock Alarm XT can be used freestanding or it can be anchored to a wall, post, side of a vehicle, or directly onto bicycles or machinery using the brackets supplied.