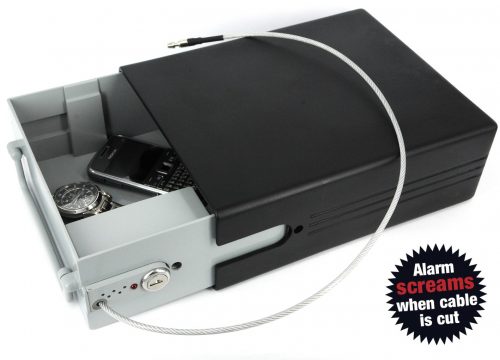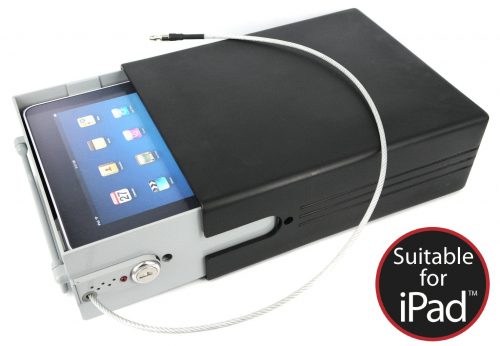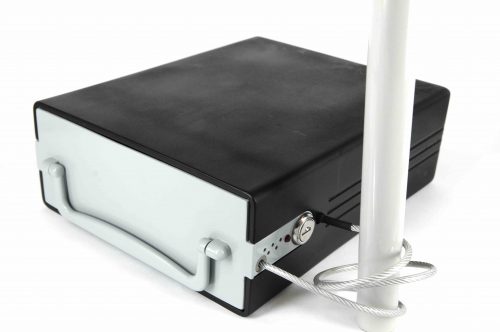 Item #6111
A compact sized portable alarmed safe. Ideal for securing iPad, tablet PC, iPhone, smartphone, camera, GPS navigation devices, jewelry, cash etc. The ultra hard steel cable quickly secures the safe to a fixed object such as a bed frame, vehicle seat, plumbing pipework, wall/floor hook etc. If an attempt is made to cut through the cable an extremely loud alarm will sound.
• Tough and durable outer casing
• Coded keys and lock cylinder
• 60cm (2ft) long ultra hard steel cable enables safe to be locked to a fixed secure point to prevent unauthorised removal or opening
• Utilises award winning patented technology
• Flashing LED when safe is locked provides deterrent to thieves
• 110 Decibel Siren
• Ideal for use in the home, office, car, school/university or hotel room
• Compact size means the safe can be secured under a bed or vehicle seat
• Requires 1 x 9 volt battery
• Battery fits inside an internal tamper proof compartment
• Dimensions – External: 26.5cm x 21cm x 9cm (10.5″ x 8.25″ x 3.5″)
• Dimensions – Internal: 25cm x 19cm x 8cm (10″ x 7.5″ x 3″)
• Weight: 1.3 kg (2.9 lbs) when empty
iPad and iPhone are registered trademarks of Apple Inc.